Play Free Card Games Online
Do you want to play blackjack, poker, or another card game online? Play free casino card games in demo mode here.
[+]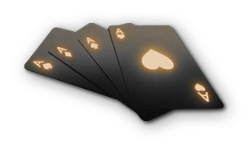 Filter games by:
Filter by game types, game providers and themes
Active filters:
Blackjack
Video poker
Baccarat
Clear all filters
Introduction to online card games
The category of card games covers any and all games that are played using playing cards. At land-based and online casinos, this normally includes different variants of poker, blackjack, and baccarat. While these games can differ a lot in terms of the rules and aim of the game, they all have in common that they are played using one or several decks of cards (normally French-suited).
At land-based casinos, these types of games can be played at tables with a dealer, other players, and physical cards held on hand. Online, the games are often played in a video-generated version with virtual cards and random outcomes. In recent years, the option of live casino games online has only become a clear favorite. Here, land-based meets online with real dealers and game tables being video recorded and streamed online in real time.
No matter if you play card games in person or online, the general rules and setup will be the same. The aim is generally for you to have the best hand of cards, according to the rules of the specific card game you are playing. Some card games are played using one 52-card deck, some are played using many decks, and some include jokers while others do not. So, in order to enjoy the variety of card games available online, it can be a good idea to start out with free versions of the games to get to grips with all the rules at your own pace.
How to play card games for free online
Playing card games online is very easy as there are many online casinos and other websites that offer an array of card games from different developers. But many of these websites require you to first register an account and make a deposit before playing – sometimes only for real money. So how can you go about it if you wish to just play for fun, for free?
Easy! Here at Temple of Games, we have a grand selection of card games and other games that you can play 100% for free. By opting for a website like ours, you can play for fun even without registering an account. Simply browse the available games and click to open and play the ones that seem interesting.
Card games can of course also be played for free in person, but that requires you to have some decks of cards and players available. If you want the full experience without having to deal your own cards or play alone, online is often the best option. With online card games, you can also play whenever and wherever you wish from your mobile or desktop device.
Benefits of playing card games for free instead of with real money
Card games are enjoyed by people of all ages but casino games such as poker are often associated with players of 18+ and with money or chips on the table. But you can actually enjoy these types of gambling games 100% for free online, thanks to games available in free versions. Playing card games for free comes with a lot of benefits, including:
Try different games without breaking the bank. "Card games" is just a broad umbrella term of the many variants of poker, blackjack, baccarat, and more available. By playing for free, you can test loads of different games without having to worry about how much you are spending (and losing).
Play risk-free. Real-money casino games come with the added thrill that they might result in a big win, but more often than not, you end up losing part or all of your bet. By playing for free, you don't have to worry about losing and can enjoy the games without any risk.
Learn the rules at your own pace. If you play with nothing to lose, you can just focus on familiarizing yourself with the games and learn as you go. While reading up on the different games and their rules can help you get started, you will learn best by actually playing and seeing how the game works. By not having any worries about your money, you can start out as a total beginner and improve the more you play.
If you feel ready to start playing some free card games, simply scroll to the top of this page and start browsing the games available. If you are looking for a specific card game category only, you can check our pages dedicated to categories such as free blackjack, free baccarat, and video poker.
Frequently asked questions (FAQ)
Card games are any type of game that is played using playing cards. For popular games such as poker, blackjack, rummy, bridge, and so on, French-suited, standard 52-card decks are normally used. There are also some card games that require a unique deck of cards or that for example use jokers as part of the game.
Is it possible to play card games on mobile?
Yes, online card games can be played via smaller screens on smartphones and tablets if the game technology is developed and optimized for mobile devices. You won't have to download any app but can play card games in your mobile browser.
How can I play card games for free?
Many websites offer free versions of card games. Here at Temple of Games, you can play high-quality games that are also offered as real-money versions at online casinos. But we offer them 100% for free in a demo version, without the need to register any account or deposit any money to play. No muss, no fuss – just a lot of free fun.
Do I need to be a strategic player for card games?
Yes and no. Most card games are partly based on luck (in terms of which cards you get dealt, which is 100% random), but also require some skill and strategy to play like a pro. When playing online, you won't have to worry about keeping a poker face but you should still try to thoroughly and strategically think through your next moves.