Deuces Wild (Habanero) – Play for 100% Free in Demo Mode
by Habanero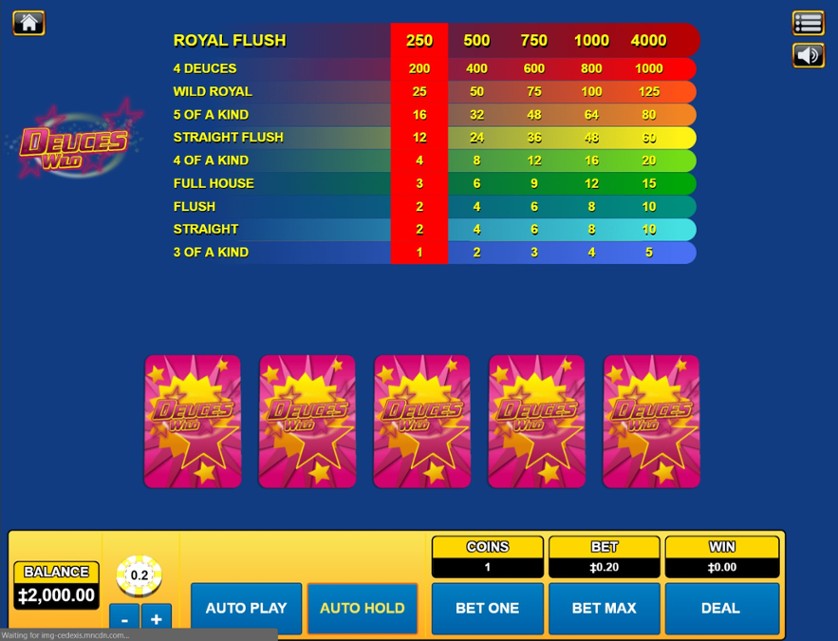 Play for Free
Play in a casino
Similar games to Deuces Wild (Habanero)
About Deuces Wild (Habanero)
Deuces Wild (Habanero) is an online video poker game created by Habanero. We've assigned these themes to this casino game: Cards.

On this page, you can play Deuces Wild (Habanero) absolutely for free, without having to register or download or install anything to you device. Just click Play for free, wait for the game to load, and start playing. If you run out of credits, just restart the game, and your play money balance will be topped up.


Video poker is a poker game played against the casino. Each video poker variant is played differently, but a typical game round of video poker starts with 5 random cards. You can then choose to exchange a selected number of these cards for new ones. Afterwards, you are awarded a win according to the payout table. To learn more, we recommend you read our article about how to play video poker.
Top real-money casinos with video poker
No available casino offers this specific game. Online casinos listed below offer other games of the same genre.
There are no casinos with this game